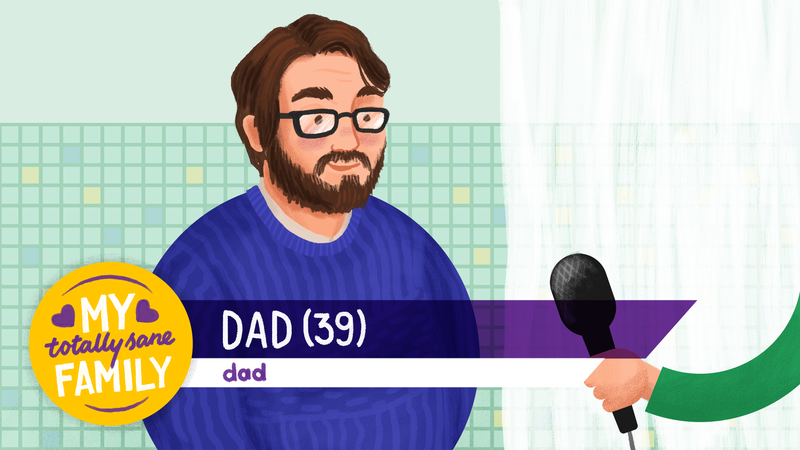 The holidays are that time of year when, for better or for worse, you and your family cram together into a house that suddenly feels too small. This year, instead of sitting around and explaining to Great-grandma why you are definitely not having that third child, organize a family documentary project.

---

Parents strive to treat their families to amazing experiences. Catapult, in partnership with Intel, is the field guide for the modern mom, offering tech-based at-home activities that will build lasting memories.
---
Using film, audio, or photography, you and your kids can interview Grandpa about his military service or talk to your great aunt about what it was like to raise three kids on a farm with no car. Or you can use documentary photography to preserve some beautiful (and not-so beautiful, because family isn't perfect) moments between the generations.

Here are some ways you and your family can plan, create, edit, and share a family documentary project. All of these projects can be executed using your laptop or your smartphone. For example, the Lenovo Yoga 920 is a solid option thanks to its portability, superior graphics, and the high-performing 8th Gen Intel® Core™ processor inside.
Get Inspired
From audio interviews like StoryCorps, documentary photography, and personal documentary films, there are a lot of amazing family documentary projects out there. Take some time to explore family documentary projects with your kids and find the medium that fits your family the best.
Pick Your Medium
If you have a family of quiet Midwesterners, perhaps video isn't the right outlet for you. On the flip side, if everyone likes to yell about sports, maybe video or (for the sake of everyone's ears), documentary photography might be right for your family. Don't be boxed in by one idea. You can do a mash-up of mediums. For example, make a video using old photos and some on-screen text. Or how about a written story with pictures?
It's also worth checking in with your relatives to make sure they are comfortable with the project and the chosen medium. And just a tip: Make your adorable children do the asking, so Grandma is less likely to say no.
Get Your Gear
Every documentary project from audio to photography can be executed with minimal equipment. You can shoot pictures and take video and audio with your cell phone or camera. Most laptops also have great built-in recording devices for audio interviews. And Skype works well too. If you require some extra special gear, consider a Sony digital recorder. It's inexpensive, easy-to-use, and records high-quality audio. Also, make sure your laptop has the latest 8th Gen Intel Core processor insider, so it can handle all the file transfers and editing you're going to do.
Pick a Theme
Once you have your medium and your gear, time to pick a theme. A theme can be as simple as keeping an eye out for a color scheme in a photojournalism project, or as complicated as gathering everyone together to share stories of a lost family member. Is this a photojournalism project designed to capture the realities of family dinner? An audio interview with family members about the family farm? Is your project simply a collection of interviews where everyone tells their favorite memory of holidays past?
Figure out the focus of your project and map out a list of who you want to talk to, stories you want to be told, and moments you hope to record. You might not get everything you want, but having a focus means you are not just gathering hours of meaningless video of your uncles watching football.
Write a Script
Sit down with your budding documentarians and work out an outline and script. This can include questions they want to ask family members or specific moments they want to photograph — you know, like the moment when Grandpa falls asleep in the recliner and Grandma yells at him. Also, if you and your kids are shooting video, write out some narration for voice overs. This can change when you're editing, but again, beginning with a focus not only makes for a better project, but teaches your kids the value of storytelling.
This is also be a good time to go over some storytelling basics, so you have moments of tension and denouement. The This American Life website has some amazing resources to inspire and focus your project.

Setting Up
It's important that the space where you are recording has good lighting, comfortable places to sit, minimal distractions, and low levels of ambient noise. If you are interviewing family members for video or audio, set up a back room with lots of light, where you can talk without worrying about the cousins hitting anyone with a Nerf gun. The New York Film Academy has some resources on the topic.
Keep Subjects at Ease
A famous journalist told me once that she prepares for hours before an interview, takes copious notes, and then never once looks at them during the interview. That's because she wants to keep people at ease, so she goes in prepared and focused, but leaves the pen and paper behind. Practice interviewing skills with your kids before the project commences, working on listening without interrupting, so you don't have to edit out a lot of "uh huh" and "oh yeah" interruptions. Teach your kids to let the subject take the lead and only prod with questions when the interview veers off, or when stories start to falter. If your medium is photography, work with your kids on becoming "invisible" and blending into the background, so they can take authentic pictures. And of course, make sure they know the most important rule of documentary making: Never stop recording.
Edit, Edit, Edit
Once you have it all together, it's time to start editing. If you want to play around with programs, here are some photo, audio, and video editing tools you can explore. And remember that video editors can also work as audio editors. While editing a visual project, keep in mind that visual cohesion is important to the overall aesthetic of the project. And no, it's not too early to teach your nine-year-old about aesthetics. Maybe it will inspire them to leave their rooms less trashy.
Accept the Imperfect
No family is perfect. But remember documentary projects aren't designed to hide flaws, but celebrate who your family is, in all their messy glory. Don't be afraid to use the picture of your aunt rolling her eyes at her kids, or the picture where the cousins spill the gravy on Grandma's carpet. Funny, real moments, will make the project all the more entertaining, memorable, and engaging. Remember, this isn't a commercial. It's for posterity.
And don't forget: When you give Intel, you'll give your whole family amazing experiences and skills that they can use for life.
Lyz Lenz is a writer and mom living in Iowa.
This post is a sponsored collaboration between Intel and Studio@Gizmodo.

Intel, Intel Core and the Intel logo are trademarks of Intel Corporation or its subsidiaries in the U.S. and/or other countries.