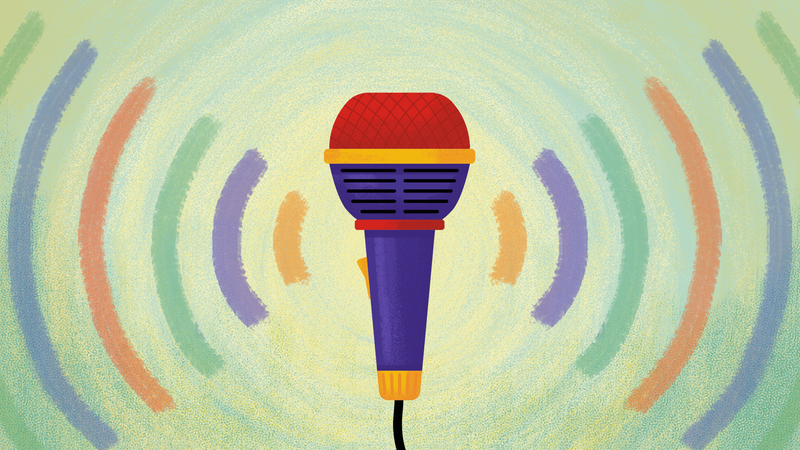 Your phone has been full of photos since your kids were born, but have you ever thought about recording their thoughts as they grow? A fun, simple, and creative way to do just that is by launching a family podcast.

---

Parents strive to treat their families to amazing experiences. Catapult, in partnership with Intel, is the field guide for the modern mom, offering tech-based at-home activities that will build lasting memories.
---
Do lively talks around the dinner table involve stories of grandma's hippie days? Do your little ones tell tall tales with complicated casts of characters? Or is your child more interested in discussing the shortcoming of the new Sesame Street character Rudy? Whatever your family's style, you can create a podcast to suit it.
Here's how to make it happen.
Fiddle with Formats
There are plenty of different ways to produce a family podcast. You can record it live with no editing, you can script and edit it, or you can script parts and improvise others. You can even have your kids share the world news with wise, childlike commentary. Your options are limitless!
However you go about it, you should offer your wiggly, little Terry Gross some structure in which they can get creative. Rebecca Bulnes writes for the A.V. Club's weekly podcast review, Podmass, and also has her own podcast, Classroom Crush. Her advice is simple: "You're going to want a hook." Is that movie reviews? Original stories? Your kids' thoughts on picture books? Find a hook.
And whatever the hook, create a format that stands out. "Make a podcast you'd want to listen to. If there's a void for a type of show that's not out there, make that show," suggests Bulnes. A successful podcast needs to balance universal appeal with a specific voice. With your coaching and their imagination, kids will have no trouble providing both relatability and a unique perspective.
But more important than any format is having a good time. "It's more fun to listen to a podcast when you can tell the people are having fun!" she adds.
Embrace Your Kid's Imagination
Three years ago, Jonathan Messinger and his then five-year-old son launched their podcast The Alien Adventures of Finn Caspian. Messinger, who also co-chairs Kids Listen, a nonprofit that supports kids making podcasts, suggests strongly, "Whatever you're doing with your kid, your kid has to have ownership of it." Let them know that they have a vital role in the project. His son acts as "editor" on their serialized sci-fi podcast for kids. His role requires spending the last five minutes of the show critiquing his father's scripted story.
Embracing his son's natural creativity, noting his attraction to audiobooks when he was very young, applying his son's feedback from reactions to his stories — all of these things guided Messinger's decisions to make this kind of podcast. Take cues from your kids. If they love talking to people, give them a dinner conversation format and invite over your most interesting friends to chat. If they're hilarious or love music, let them tell jokes or incorporate their tunes into each podcast. If they're shy, you can create a private environment where they are comfortable sharing their perspective on the world.
When planning your recording sessions, keep it flexible. Kids have funky schedules and sometimes they just don't want to work on a new project. If you do want to do a regular weekly podcast, make sure you have a backup plan for days when your kid says, "I don't want to do your stupid podcast," Messinger advises. He knows — he's heard those words before.
When It Comes to Gear: Keep It Simple
Given that these should be fun experiences and usually kids don't care about how much you spent on the microphone, try to keep it cheap and simple. "Make whatever you're recording on the least important thing about what you're doing," Messinger stresses. "You don't want it to feel like a job. You put a mic in front of a kid, the first thing they do is yell as loud as they can. Make it as much as a game as possible."
Messinger uses a cheap microphone that's under $20 like the Pyle-Pro microphone. If the kids break it, it's easy to replace. These mics don't plug directly into your phone, though. But Messinger explains that "the mics on [most phones] are pretty decent if you use them correctly." His method? "Don't hold the phone right in front of your mouth, but if you tip it like you're shaving your face, on your chin, it actually sounds really good." There are also plenty of great microphones to plug into your phone like the Shure MV88 iOS Digital Stereo Condenser Microphone. Or if you just want to use your computer, the Audio-Technica ATR2100 microphone has a USB port, and comes with a tripod.
As far as apps to use to edit your recordings on your computer, tablet, or smartphone, there is the free Soundboard app. You can mix your recordings on these, then add in special effects and music. Audacity is another free editing software that's worth checking out. For the big spenders or dedicated professionals, Hindenburg Pro is solid radio editing software.
Bulnes emphasizes that quality of sound may be secondary to content when it comes to recording with the family. She even suggests just using Skype on your laptop.
Share It Far And Wide
If you want to share your family's podcast with the world, there are plenty of specific host sites like Blubrry and Libsyn where you can upload files for a fee, starting at $5 a month. Sites like PodBean, Spreaker, or PodOmatic have free options for hosting, as well.
These sites host your sound files and create a RSS feed. You submit that feed to sites like iTunes Connect, Google Play Music, Stitcher, and TuneIn. Be patient, because it might take a few days for the sites to approve your podcast. Once your podcast is out there, it's automatically added to directories where most other podcast apps — like Overcast or Podcast Addict — pull from.
Finally, why not collaborate with the kids to write a cool press release with illustrations? Make it original and send it to parenting blogs and local publications. Don't hesitate to hit up Kids Listen for support. The organization offers members workshops to improve elements of their shows and other cross-promotional opportunities.
Liz Tracy is a Miami-bred, Boston-based freelance writer, editor, and mother.
This post is a sponsored collaboration between Intel and Studio@Gizmodo.
Intel, Intel Core and the Intel logo are trademarks of Intel Corporation or its subsidiaries in the U.S. and/or other countries.