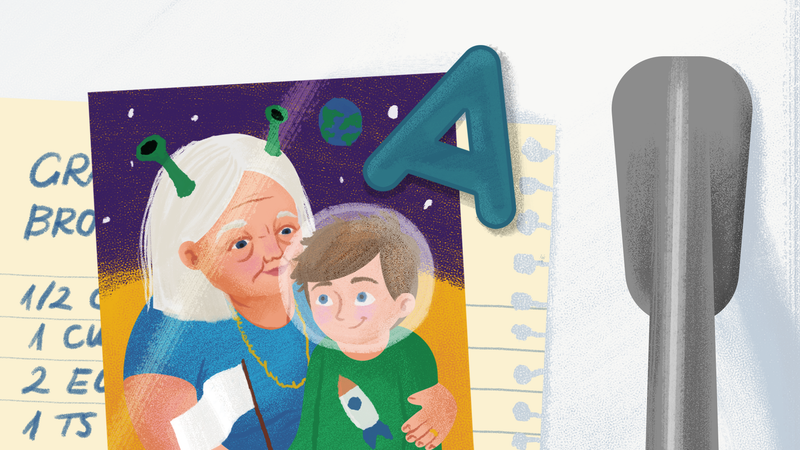 As a new mom who is lucky enough to have both my mom and my mother-in-law around to help, I can say without compunction: There is absolutely nothing as amazing as a grandmother. The way my kids' eyes light up when they see their grandparents is enough to melt me into a puddle. Thank the grandparents (or really any other close relative) in your child's life this holiday season by creating a personal, intimate present that's brimming with your kids' personality.

Whether Grandma herself is digitally hip or analog-only, technology can help you and your child make something that she'll not only love using, but want to show off to her friends. And your kid will learn a new skill or two. Here are a few gift ideas that range from simple to sophisticated to give to any beloved relative or friend.

---

Parents strive to treat their families to amazing experiences. Catapult, in partnership with Intel, is the field guide for the modern mom, offering tech-based at-home activities that will build lasting memories.
---
Make A Personalized Ringtone
Personalized ringtones might be a little bit cheesy, but when they're right, they're perfect. My sister-in-law has the "Curb Your Enthusiasm" and "Lion King" themes set for certain relatives, and it never fails to make me laugh when I hear it.
Grandparents will get a kick out of their very own personalized ringtone. Using a recording app on your computer or phone, get the kids to sing a song, play their musical instruments, bang on their xylophones, or sing along with their favorite CD. They can even say something funny like: "Ring ring, it's me calling, Grandma! I love you soooo much!"
After, save the file and send it to grandma's phone via email or text. Then, "borrow" the phone. Use a guide online that's specific to the phone you're working with to add the ringtone to the contact information she has listed for your kids.
Create Their Own Magazine or Newspaper 
There's nothing grandparent like better than hearing new stories of their grandkids' up-to-the-minute antics, and putting photos of those grandkids in every available space at home. Here is a way to combine the two while encouraging the kids to do something creative.
Create a family magazine or newspaper with a few article-style updates on what's been going on lately: an adventure with the pet, a school project, a sleepover, a visit to a park to see ducklings, or even a review of a new favorite book or movie. Have the kids write (or dictate) these "news items", and then use photos or scanned images of the kids' own drawings to illustrate the articles.
You can put this together using a free design application, though honestly, you can create a nice looking fake publication by playing around with various word processing layouts. Then print them out, and mount, laminate, or frame them for maximum displaying and bragging potential. You can also get your family magazine printed and bound at a local printer or a FedEx Kinkos.
Doctor a Family Photo
Remember that time you were all at a wedding (or a cookout or a school graduation) and some eager relative corralled everyone together to smile for a series of posed pics? Well, as much as the young ones groaned about it then, this is the chance to turn that endless posing session into potentially hilarious gold, perfect for hanging on Grandma's wall.
Using Photoshop or a similar app, encourage your kid to put the smiling, arms-around-the shoulders clan on a distant planet, deep under the sea, in Paris, or even upside down. Digitally cut out the family shapes and transpose them onto a background of the mottled surface of Mars or the moon.
As your kid busily moves the picture of the clan (or just herself) across the solar system or around the world, you can talk about a relevant subject such as extraterrestrial life, the lost city of Atlantis, architecture, or whatever grabs their imagination.
Once you're done playing around, you'll have a unique image to use for a customized gift. And you can use one of the many services out there (Shutterfly and Tiny Print are two popular options) to turn this special shot into a mug, photo magnet, or paperweight. This tangible reminder of their beloved grandkids will mean more to the grandparents than any store-bought present in the world.

Sarah Seltzer is a writer and editor in NYC.
This post is a sponsored collaboration between Intel and Studio@Gizmodo.
Intel, Intel Core and the Intel logo are trademarks of Intel Corporation or its subsidiaries in the U.S. and/or other countries.